To add a Team member, navigate to the Team area of your WLTH portal.
1. Click on the +Add button in the area that corresponds to the type of team member you want to add.
– Personal for family members
– Entities for companies, trust funds, self-managed super funds, etc.
– Professionals for your accountant, lawyer, financial planner, etc.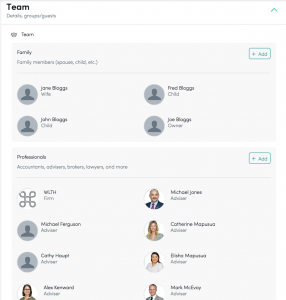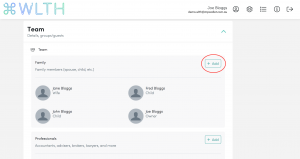 2. Enter their details in the dialogue box.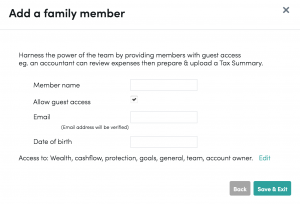 If you're adding a family or professional team member, you can choose to give them guest access to your account. NOTE: Guest access is the default so if you don't wish your team members to have access at the time you set them up, make sure you untick the button.

For a team member to set up their guest access you will need to enter their email address. They will then automatically receive an email letting them know that they have access to your wealth portal.
You are able to control how much or how little of your wealth portal your guest can see by clicking 'edit' next to 'Access to: Wealth, cashflow, protection, goals, general, team, account owner' (see screenshot above).
When you click on the edit button, another drop down box appears and you can select the items you want your team member to be able to view.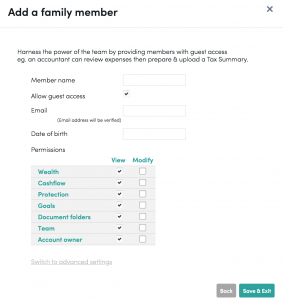 3. Click "Save & Exit".
The team member can now be found in the Team area of your portal.
Editing a team member
To edit a team member, click on their icon to expand their details.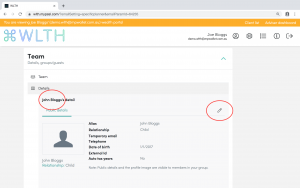 Click on the Edit icon (pencil in right corner) and make adjustments required.
– Public Details tab: in this tab, you can change your team member's name, email and date of birth.
External ID: this only applies if your team member was set up and imported using third party software.
Auto Tax Years: this is a setting that is used to add tax summaries for your account. The portal can automatically calculate how many tax years apply to the team member. Most children will not need this enabled.
– Permissions tab: if the team member you're editing is a person with guest access enabled, this tab will be visible next to the Public Details tab. It allows you to control both at a high and granular level what data this person can see in your account.
Removing (deleting) a team member
To remove a team member so they no longer have access to your portal
1. Click on their name or icon to expand their details.
2. Click on the Edit icon (pencil in right corner)
3. You will see a red rubbish bin in the bottom left corner. Click on it and hit "Confirm". This will also delete any of their tax or advice information stored in the portal.